Tepco takes over 56 years to discharge all tritium to the sea on the most optimistic assumption
Posted by
Mochizuki
on March 4th, 2013 ·
1 Comment
over 56 years to discharge all tritium to the sea according to Tepco.
The tritium is contained in the contaminated water.
This is on the assumption that the retained water does never increase even by 1cc for the rest of time, and that they discharge tritium to the sea at the highest level everyday under the safety regulation.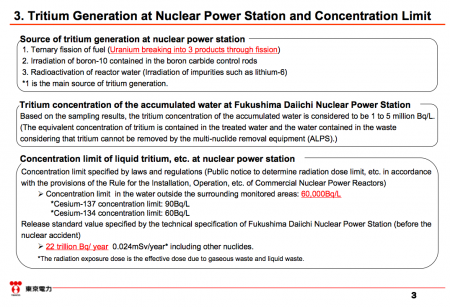 The retained water contains 1 ~ 5 million Bq/L of tritium. (Tepco commented it is actually 5 million Bq/L.)
The volume of the whole retained water is 245,000,000 L.
The safety limit of tritium to discharge is 22,000,000,000,000 Bq/y.
Related article..Tepco started propaganda to downplay the risk of Tritium for discharging contaminated water to the sea [
URL
]
http://www.tepco.co.jp/en/nu/fukushima-np/handouts/2013/images/handouts_130228_04-e.pdf
Ultra thanks→
http://kinoryu.cocolog-nifty.com/go_kinoryu/2013/03/post-4483.html
Iori Mochizuki
---

0:00~3:00 3/1/2013 (NY Time)
0.00 USD in total
Spotlight on the covered truth. Fukushima Diary's genuinely supported by donation like wikipedia. Thank you for considering donating!

今でも毎時1千万Bq漏れている福島原発。
マスコミの偏向報道に惑わされず真実を白日のもとに晒したい。
福島に関する世界初のシンクタンクを目指します。
Fukushima Diaryはwikipediaと同じく
100%寄付で成り立っています。
あなたの寄付はサーバー維持管理費や
執筆費用に使わせて頂いております。

0:00~3:00 2013/3/1現在の合計額
0.00USD 
---
Thank you for your donation ご寄付ありがとうございます。