Fukushima Emergency what can we do?
Japan Fukushima-Daiichi nuclear power plant blog Tracking Fukushima news from day 1 : | Now one of the world's largest Public Available Repositories of the Chronology of the Daiichi Nuclear ongoing Disaster. This entire site and content is 100% copyright (for commercial replication), please use the form to submit application for re-use. This site is 100% Educational and all licences in relation to reporting are attended to.
Blog Archive

Tuesday, 4 September 2018
[snip]
By Nicolas Ito, CNN
July 13, 2011 -- Updated 0922 GMT (1722 HKT)
Sunday, 8 April 2018
Some of the radioactive material that escaped the Fukushima Daiichi nuclear reactor in 2011 took a form no one was looking for, scientists have discovered. Now they have to figure out what it means for Japan and for future disasters.
Radioactive cesium—specifically, cesium-137—is one of the waste products of nuclear power. It's also one of the most dangerous substances in a nuclear disaster like Chernobyl or Fukushima.
One reason why is that the type of radiation it emits is particularly damaging to our bodies. Another is that cesium-137 dissolves in water. That means it can spread quickly through the environment and get into the plants, animal and water we consume.
Until now, scientists and disaster experts thought cesium-137 fallout from the Fukushima reactor meltdown was in this soluble form. That guided their cleanup efforts, like removing and washing topsoil, and helped them map where radiation might spread.
It turns out that wasn't entirely true. Satoshi Utsunomiya, a geochemist at Kyushu University in Japan, announced over the weekend that he had found cesium-137 in a new form: trapped inside tiny glass particles that spewed from the damaged reactors. These particles are not water soluble, meaning we know very little about how they behave in the environment—or in our bodies. He found the particles in air filters placed around Tokyo at the time of the disaster.
According to Utsunomiya, high temperatures inside the malfunctioning reactors at the Fukushima plant melted and broke down the concrete and metal in the buildings. Silica, zinc, iron, oxygen and cesium-137 fused into millimeter-wide glass microparticles, each about the size of a pin's head. Lifted into the atmosphere by the fires raging at the plant, they then blew about 240 kilometers southwest to Tokyo.
"As much as 89% of all of the cesium [in Tokyo] was in fact in these particles. It's profound," says Daniel Kaplan, a geochemist at Savannah River National Laboratory in South Carolina. He attended Utsunomiya's lecture describing the findings at the ongoing Goldschmidt Conference in Yokohama, Japan.
Kaplan says similar particles were observed near the Chernobyl reactors after the explosion there in 1986. But they were only seen within about 30 kilometers; beyond that, cesium-137 was only observed in rain.
Japanese researchers had previously found smaller versions of these cesium-containing glassy particles in Tsukuba, about 170 km from Fukushima, although apparently not at such high concentrations. One earlier paper also suggested that cesium-137 might work its way out of the particles over time.
The discovery could change how we model fallout from nuclear disasters. Kaplan explains that it might add a new variable to the models we use to predict where radioactive particles will go and how long they'll stay there. It might also change how we treat cesium-137 during cleanup and monitoring.
It is probably still too early to say what this means for people living in Tokyo or elsewhere in Japan. Kaplan thinks the amount of radiation they received probably hasn't changed. Whether they got it from water-soluble cesium-137 or from these particles, the radiation dose was the same—and for Tokyo residents, that number was within the margin of safe exposure.
The bad thing about water-soluble cesium-137 is that it can easily get into our bodies from soil by way of plants and animals. This new discovery alleviates that concern. But it opens up a new possibility we know little about.
"If the particles are in the air—because that's how they get to Tokyo—then when you are aspirating this air you should find them in some ways on your lungs," says Bernd Grambow, who studies nuclear waste chemistry as head of the SUBATECH laboratory in France.
Water-soluble cesium-137 that makes it into our lungs passes into the bloodstream and is peed out within a few weeks. But Grambow says we really don't know what happens to insoluble cesium-137-containing particles if they get in our lungs. Some of them are likely coughed out or removed by our lungs' other normal processes. As for the rest, Grambow says we don't know how long they might remain.
He cautions that any internal radiation from particles containing cesium-137 would be much less than the doses people got from external radiation, which would come from cesium-137 and other radioactive elements in the soil or the environment around them. "We don't know very much, and my point is only that they should be studied," Grambow says.
Utsunomiya's next step is finding out how much of the cesium-137 that ended up in soils in Tokyo and elsewhere was in these glass particles. That way, researchers will be able to better understand how cesium made its way out of the reactor and into the environment.
This story has been corrected with more information about previous research.
Thursday, 5 April 2018
A special event promoting homemade hamburgers using ingredients from Fukushima Prefecture recently took place in Tokyo's Shibuya Ward.
Roughly 30 people turned up on the occasion, where they sampled hamburgers containing fresh meat and vegetables produced in Fukushima Prefecture that were brought to the venue by young food-growing volunteers.
The event was organized by groups such as "Eat, and Energize the East," which strives to put Tohoku-grown food back on the map, and which was formed in the wake of the Great East Japan Earthquake in 2011.
Yoshitaka Ono, 34, head of an agricultural support group called "Cool Agri" based in Koriyama, Fukushima Prefecture, and 31-year-old Masamichi Egawa, who both reside in the prefecture, actively promoted locally grown ingredients at the event.
Ono runs an organic fruit farm, while Egawa focuses on growing potatoes and asparagus, in addition to trying to popularize a rare type of saffron that had traditionally been grown in Fukushima Prefecture.
At the hamburger event on March 18, held in Tokyo's trendy Ebisu district, Ono provided a sauce processed from various fruits from his farm, and Egawa supplied saffron-rice buns made from his saffron.
Adding the sauce and the buns to the meat and the tomatoes makes the hamburger "Instagrammable." A number of impressed participants took photos of the completed burgers with their smartphones before eating them.
In addition, Ono told the crowd about his barbeque area and beer garden situated in the middle of his apple fields, which is designed to bring producers and consumers together.
"The vegetables (in Fukushima Prefecture) retain key nutrients and develop a brilliant, slightly sweet taste. Being able to eat these products, which are not available in Tokyo, is our special privilege," Egawa said, as he spoke about the Tohoku region's method of growing vegetables such as Chinese cabbage in snowy conditions.
Erika Morikawa, a 23-year-old dietician who attended the event, said, "There's a tendency to dismiss the aftermath of 3.11 as a problem that doesn't concern you. However, after hearing the stories of people who are trying hard in Fukushima Prefecture, I've come to realize that I really want to cooperate for the area's reconstruction."
Thursday, 8 March 2018
Many families with small children have not returned to municipalities in Fukushima Prefecture that were affected by the 2011 nuclear accident at Tokyo Electric Power Company Holdings, Inc.'s Fukushima No. 1 nuclear power plant, a Yomiuri Shimbun survey has found.
According to the survey, next fiscal year, a total of 531 children will attend public elementary and junior high schools in nine municipalities — five in which public schools will resume operating in April and four in which schools have already resumed operating following the lifting of evacuation directives. This is only 8.6 percent of the total number of children who had been enrolled at public schools in these nine municipalities before the nuclear accident. The survey shed light on the situation, finding that many families with small children have been slow to return to their hometowns as they have already established their lives in the places to which they evacuated, such as by finding employment.
Sunday, 10 December 2017
All part of the now 6 years ongoing denial campaign of the Japanese Government, denying the harmful effects of internal radiation and that even at low dose level, meant to calm down the fears of the local population, and to prepare the venue of the 2020 Tokyo Olympics and also to incite other countries to lift their import restrictions and radiation testing of the Eastern Japan produce.
Authorities in Fukushima plan to scale down radiation tests on rice harvested in the prefecture.
Since the nuclear accident in March 2011, the local government has spent 6 billion yen - or about 53 million dollars - every year to check radiation levels of all rice produced in Fukushima.
The tests require farmers to transport their harvest to a testing facility. Samples with radiation levels higher than the government-set limit have not been detected since 2015.
An expert panel convened in July to review the testing system and survey the opinions of consumers.
Based on the panel's recommendations, local authorities have decided to replace full-scale testing with sample inspections in 47 of the Fukushima's 59 municipalities.
The remaining 12 municipalities are located around the crippled Fukushima Daiichi nuclear plant.
Authorities have yet to decide when they will switch from full-scale to sample testing. Officials say they will take a decision in February.
Rice is the only produce from Fukushima to be tested systematically. All other agricultural and marine products undergo sample testing.
Tuesday, 31 October 2017
I've asked radiation specialists to take on this research, but they have never been willing to take this on because they say we don't have any resources or time to spare because humans are much more important.
This year the evacuated residents of Japan's Fukushima Prefecture
began returning home
, and as they resume their lives, the monkeys who have lived there all along have some cautions for them—in the form of medical records.
The Japanese macaques show effects associated with radiation exposure—especially youngsters born since the March 2011 meltdowns at the Fukushima-Daiichi Nuclear Power Plant, according to a wildlife veterinarian who has studied the population since 2008.
Dr. Shin-ichi Hayama detailed his findings Saturday in Chicago as part of the University of Chicago's commemoration of the 75th Anniversary of the first man-made controlled nuclear reaction, which took place under the university's football stadium in 1942 and birthed the technologies of nuclear power and nuclear weapons.
Hayama appeared alongside documentary filmmaker Masanori Iwasaki, who has featured Hayama's work in a series of annual documentaries exploring the impact of fallout from the reactor meltdowns on wildlife. The fallout led the Japanese government to evacuate residents from a highly contaminated area surrounding the plant and extending to the northwest. The plume crossed the Pacific Ocean and left much diluted quantities of fallout across the United States,
an event closely monitored on this page
.
Since 2008, Hayama has studied the bodies of monkeys killed in Fukushima City's effort to control the monkey population and protect agricultural crops (about 20,000 monkeys are "culled" annually in Japan). Because he was already studying the monkeys, he was ideally positioned to notice changes affected by radiation exposure.
"I'm not a radiation specialist," Hayama said Saturday in Chicago, "but because I've been gathering data since 2008—remember, the disaster took place in 2011—it seems obvious to me that this is very important research. I've asked radiation specialists to take on this research, but they have never been willing to take this on because they say we don't have any resources or time to spare because humans are much more important.
"So I had to conclude that there was no choice but for me to take this on, even though I'm not a specialist in radiation," Hayama said, his remarks translated by University of Chicago Professor Norma Field. "If we don't keep records, there will be no evidence and it will be as if nothing happened. That's why I'm hoping to continue this research and create a record."
Fukushima City is 50 miles northeast of the Fukushima-Daiichi Power Plant, so the radiation levels have been lower there than in the restricted areas, now reopening, that are closer to the plant. Hayama was unable to test monkeys in the most-contaminated areas, but even 50 miles from the plant, he has documented effects in monkeys that are associated with radiation. He compared his findings to monkeys in the same area before 2011 and to a control population of monkeys in Shimokita Peninsula, 500 miles to the north.
Hayama's findings have been published in the peer-reviewed journal
Scientific Reports, published by Nature
. Among his findings:
Smaller Bodies — Japanese monkeys born in the path of fallout from the Fukushima meltdown weigh less for their height than monkeys born in the same area before the March, 2011 disaster, Hayama said.
"We can see that the monkeys born from mothers who were exposed are showing low body weight in relation to their height, so they are smaller," he said.
Smaller Heads And Brains — The exposed monkeys have smaller bodies overall, and their heads and brains are smaller still.
"We know from the example of Hiroshima and Nagasaki that embryos and fetuses exposed in utero resulted in low birth weight and also in microcephaly, where the brain failed to develop adequately and head size was small, so we are trying to confirm whether this also is happening with the monkeys in Fukushima," Hayama said.
And it appears that it is:
Anemia — The monkeys show a reduction in all blood components: red blood cells, white blood cells, hemoglobin, and the cells in bone marrow that produce blood components.
"There's clearly a depression of blood components in the Fukushima monkeys," said Hayama. "We can see that in these monkeys, that there is a correlation between white blood cell counts and the radio-cesium concentrations in their muscles. This actually is comparable to what's been reported with children of Chernobyl."
"We have taken these tests from 2012 through 2017, and the levels have not recovered. So we have to say this is not an acute phenomenon. It has become chronic, and we would have to consider radiation exposure as a possible cause," Hayama said.
Hayama has appeared in several documentaries by Masanori Isawaki, who was 70 years old in 2011 and ready to retire from a thirty-year career making wildlife documentaries—he is best known for his portrait of "
Mozu: The Snow Monkey
"—when the Fukushima reactors melted down.
"Having turned 70 I thought, I've done enough, I can sit back. And then the nuclear disaster struck," he said, his remarks also translated by Field. "I watched TV shows and read the newspaper for a year and kept asking myself, is there something left in me that I can do? A year later in 2012, with a cameraman and a sound engineer, the three of us just decided: In any case let's just go to Fukushima, see what's there."
Since then he has made five films, one each year, documenting radiation impacts on wildlife, grouping them under the title "
Fukushima: A Record of Living Things
." Two episodes were screened Saturday in Chicago, their first screenings in the United States.
At first Iwasaki documented white spots and deformed tails on the reduced number of barn swallows who survived after the disaster.
"It's something we haven't seen anywhere else but Chernobyl and Fukushima," says the narrator of Iwasaki's 2013 film, "so it's clearly related to radiation. It probably doesn't hurt the bird to have some white feathers, but it's a marker of exposure to radiation.
"The barn swallows in Fukushima are responding in the same way as what we've seen in Chernobyl. The young birds are not surviving. They are not fledging very well."
The white spots also turned up on black cows. Some types of marine snails vanished, then gradually returned. Fir trees stemmed differently, and the flower stalks of some dandelions grew thick and deformed. Dandelion stalks are a favorite food of Japanese monkeys, but the monkeys showed no obvious deformities, so Isawaki turned to Hayama to find out how radiation was affecting them.
By Jeff McMahon, based in Chicago.
Sunday, 1 October 2017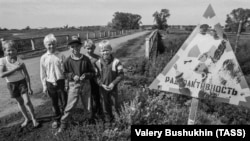 Около 300 тысяч человек подверглись облучению в результате масштабной аварии на ПО
"
Маяк
"
, произошедшей ровно 60 лет назад, 29 сентября 1957 года. Взрыв емкости с радиоактивными отходами привел к выбросу в атмосферу 20 миллионов кюри, из которых за пределы промышленной площадки попало два миллиона. Общая территория загрязнения составила от 15 до 20 тысяч квадратных километров в Челябинской, Свердловской и Тюменской областях. Согласно данным МАГАТЭ, авария на "Маяке" – это шестой уровень Международной шкалы ядерных событий. Самый высокий, седьмой, присвоен Чернобыльской катастрофе.
Руководитель экологической организации "Планета надежд" Надежда Кутепова родилась в Озерске – в том самом закрытом городке под Челябинском, в котором и находится ПО "Маяк". Уехать оттуда ей пришлось два года назад, когда НКО был присвоен статус иностранного агента, а саму Надежду в эфире федерального телеканала объявили шпионкой, фактически обвинив в госизмене. Сегодня вместе с тремя детьми она живет во Франции.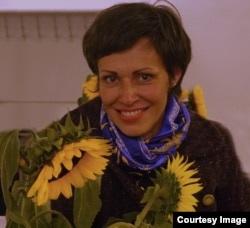 – В этом году впервые в Озерске проводятся мероприятия, которые посвящены годовщине аварии, – рассказывает Надежда Кутепова. – Впервые за все время. Я коренная жительница, и ни разу на моей памяти не было никаких подобных акций. То есть всегда была даже несколько странная тишина, а в этом году прямо целый список событий, посвященных 60-летию аварии. Это связано, в первую очередь, с чествованием ликвидаторов и с тем, что Росатом выпустил памятный знак для них. Конечно, все это выглядит немного бутафорией, но, с другой стороны, неплохо, что они это начали. Но никакой речи о мероприятиях для людей, которые пострадали, были эвакуированы, или что-то с ними произошло – этого ничего нет.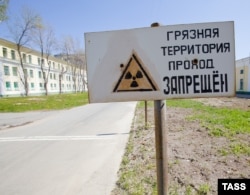 –​ Как вы думаете, общество усвоило урок "
Saturday, 2 September 2017
Workers wearing protective suits and masks work on the No. 2 reactor building at the Fukushima Daiichi nuclear power plant.
x
TOKYO - A state-backed entity tasked with supporting the decommissioning of the Fukushima nuclear power station proposed Thursday that melted fuel be removed from the side of three of the crippled reactors as part of the process to scrap the complex.
Based on a formal proposal, the government and the plant operator Tokyo Electric Power Company Holdings Inc (TEPCO) will determine specific approaches to carry out the process on each reactor next month and update the plant decommissioning road map.
Under its strategic plan for 2017, the Nuclear Damage Compensation and Decommissioning Facilitation Corp called for the removal of the fuel by partially filling the three reactors with water to cover some of the nuclear debris while allowing access to carry out the work.
The entity also pointed out that the decommissioning work requires phased efforts while maintaining flexibility, as the project still faces many uncertainties.
The extraction work from the Nos. 1-3 reactors at the Fukushima Daiichi nuclear complex, which suffered meltdowns following the massive 2011 earthquake and tsunami disaster, is seen as the most difficult step toward the ultimate goal of decommissioning the entire complex, set to take at least 30 to 40 years to complete.
The government and TEPCO are currently aiming to start the extraction work from 2021.
Under the plan, the Nuclear Damage Compensation and Decommissioning Facilitation body proposed using a remotely controlled apparatus to shave debris from the underside of the lower section of the reactors' containment vessel while controlling the level of water.
Debris remains not only in the reactors' pressure vessel but also piled and scattered at the bottom of the containment vessel that houses the reactor vessel.
As for debris left in the reactors' pressure vessel, the entity will consider removing it from the upper part of the reactors, it said.
The decommissioning body had previously considered a strategy to fill the containment vessel with water as water is effective in containing radiation, but it has shelved the idea as the reactor containers are believed to have been damaged and would leak.
Following a magnitude-9.0 earthquake in March 2011, tsunami inundated the six-reactor plant, located on ground 10 meters above sea level, and flooded power supply facilities.
Reactor cooling systems were crippled and the three reactors suffered fuel meltdowns, while hydrogen explosions damaged the buildings housing the Nos. 1, 3 and 4 reactors.
The Nuclear Damage Compensation and Decommissioning Facilitation entity was established after the Fukushima crisis, the worst nuclear disaster since Chernobyl, to help the utility pay damages. The state-backed entity holds a majority stake in the operator.
Thursday, 17 August 2017
[snip]
El País Semanal (Spanish newspaper), May 2, 2016 (emphasis added):
Fukushima
: Contaminated lives… Spanish media investigates how the 2011 Japanese tsunami changed the course of the country's history… the
Fukushima
nuclear plant started to leak radiation that seeped insidiously into the atmosphere, the soil and the
Pacific Ocean
… Mr Toru Anzai, 63, wanders around the house he abandoned five years ago [in] Litate… Two years ago, he had a heart attack and a stroke… in the hospital they found a hole in the frontal lobe of his brain that was producing paralysis down the left side of his body. The doctor said it could have been caused by absorbing cesium over a period of time… [After the reactor explosion on] March 14, he heard a thunderous noise… It didn't take long for the wind to bring the penetrating smell of melted iron mixed with sulfur to Litate as a massive toxic cloud blew towards his home. In spite of the mayor of Litate's assurance that there was no risk of radiation, Mr Anzai bought his first dosimeter on April 18… the radiation in the room where he and his brothers had been sleeping for the past month was at six microSieverts an hour – 20 times higher than the level stipulated by the government for relocating residents…
[
link to elpais.com
]
Xinhua, May 23, 2016: Five years on,
Fukushima
remains shrouded in untold stories… Some of them suffer from radioactive-related diseases, and some are seeking help but having nobody to turn to. [Since] the
Chernobyl
nuclear disaster… various investigations and commemorations have never ceased… Yet on the
Fukushima
nuclear disaster, probes have always been wrapped in an ominous cloak for the past five years… However, concealing the truth will not lead people's memory to oblivion, but arouse anger… One focal point is the local children's poor health, especially thyroid cancer… The International Society for Environmental Epidemiology, a global organization, sent a message to the Japanese government this January expressing worry over the high incidence of thyroid cancer…
[
link to news.xinhuanet.com
]
Xinhua, May 23, 2016: A 2015 research found that children living near the
Fukushima
nuclear facilities are significantly up to 50 times more likely to develop thyroid cancer compared to those children living elsewhere in
Japan
. Data on radiation levels collected by Japanese volunteers near the Daiichi nuclear power plant is 8 to 10 times higher than the official number… Questions over the
Fukushima
aftermath have never ceased to pop up…
Japan
is concerned with its national image, food security, tourism, nuclear policy, medical compensation and possibility of public lawsuits… [none] of them should be the country's excuse for preventing the post-disaster situation from being known to the public…
[
link to news.xinhuanet.com
]
[end snip]
enewnews (and others)
[
link to enenews.com
]
Saturday, 15 July 2017
By CHIKAKO KAWAHARA/ Staff Writer
November 19, 2016 at 13:05 JST
Students from Fukushima High School view the stricken Fukushima No. 1 nuclear power plant during a tour aboard a bus on Nov. 18. The No. 1 reactor building is in the background. (Chikako Kawahara)
OKUMA, Fukushima Prefecture--It was no ordinary outing for the 13 students from Fukushima High School.
The teenagers toured the site of the crippled Fukushima No. 1 nuclear power plant by bus on Nov. 18 to get a firsthand look at work to decommission the reactors following the triple meltdown in 2011.
It was the first tour by youngsters since the disaster as plant operator Tokyo Electric Power Co. had deemed the radiation risk was too high.
Through bus windows, the students observed the damaged reactor buildings, rows of storage tanks holding contaminated water and other facilities on the sprawling nuclear complex.
FULL ARTICLE:
Friday, 14 July 2017
[snip]
It was a rescue mission, but one that years later turned the tables on victim and rescuer. Abandoned by their own government, American servicemembers who came to the aid of Japanese disaster victims will now benefit from a fund set up for them by a former prime minister.
Following a magnitude 9.0 earthquake and subsequent tsunami on March 11, 2011 in Japan, it quickly became clear the rescue work needed far outstripped the capabilities of Japan's Self Defense Forces. The tsunami, whose waves reached heights of 130 feet, crippled the Fukushima nuclear plant, shutting down its cooling system and causing a nuclear meltdown that devastated the immediate area and at one point threatened to send a radioactive cloud over much of the nation.
The United States quickly dispatched an entire aircraft carrier group, centered on the USS Ronald Reagan, some 25 ships, for what came to be known as Operation Tomadachi (Friend). The U.S. provided search and rescue, and medical aid. Thousands of American military personnel assisted Japanese people in desperate need.
But it did not take long before the problems started.
Military personnel soon began showing signs of radiation poisoning, including symptoms rare in young men and women: rectal bleeding, thyroid problems, tumors, and gynecological bleeding. Within three years of the disaster, young sailors began coming down with leukemia, and testicular and brain cancers. Hundreds of US military personnel who responded to Fukushima
reported
health problems related to radiation.
Some of those affected had worked in the area of the nuclear disaster, some had flown over it, many had been aboard ships that drew water out of the contaminated ocean to desalinate for drinking. All personnel were denied any special compensation by the US government, who referred back to Japanese authorities' reports of relatively low levels of radiation, and to the military's own protective efforts.
In a final
report
to Congress, the Department of Defense claimed personnel were exposed to
less radiation
than a person would receive during an airplane flight from Los Angeles to Tokyo. The Defense Department
stated
due to the low levels of radiation "there is no need for a long-term medical surveillance program."
However, five years after the disaster and more than a year after its final report, a Navy spokesperson
admitted
that 16 US ships from the relief effort remain contaminated. However, the Navy continued, "the low levels of radioactivity that remain are in normally inaccessible areas that are controlled in accordance with stringent procedures."
Other Parts of the US Government Reacted Very Differently to the Threat
On March 16, five days after the meltdown, the State Department authorized the voluntary
departure from Japan
of eligible family members of government personnel assigned to the US Embassy in Tokyo and other State Department facilities.
Ten days later, the US military moved over
7,000 military family members
out of Japan under what was also called a "voluntary departure." The effort, codenamed Operation Pacific Passage, also relocated close to 400 military pets.
And around the same time, the American Embassy repeated a Japanese government warning to parents about
radioactive iodine
being detected in the Tokyo drinking water supply. Tokyo is about 150 miles away from the Fukushima disaster site.
US Servicemembers Sue the Nuclear Plant Owner
After receiving no help from their own government, in 2013 a group of US servicemembers (now numbering 400; seven others have died while the lawsuit winds its way through the courts)
filed
a lawsuit against the Tokyo Electric Power Company (TEPCO, the owner of the nuclear plant) seeking more than two billion dollars.
[end snip]
FULL ARTICLE: